Japanese heavy-hitters and new designers dominated the runways. The streets were teeming with an incredible array of original styling and, most noticeably, the current trend of 'print clashing.'
Imagine pairing florals with checkers, lace with velvet, pattern layered upon pattern! It is a bold new statement, and we loved the vibrancy and the courage of the Tokyo street style auteurs.
---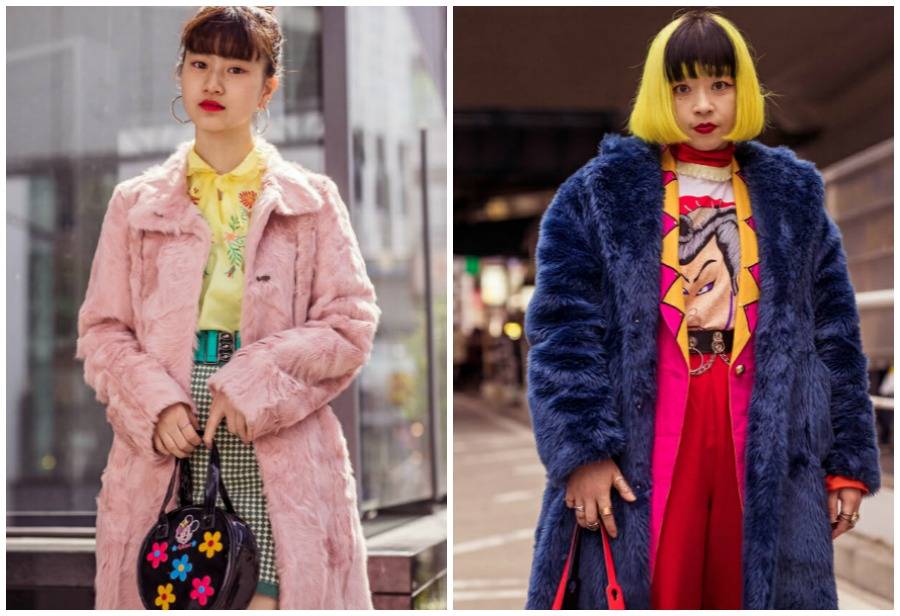 Faux fur and teddy bear coats in bright colours and textures pair beautifully with an embroidered blouse and check pencil skirt (left), and add that extra layer of awesome to this animated t-shirt-cum-circus ringmaster ensemble.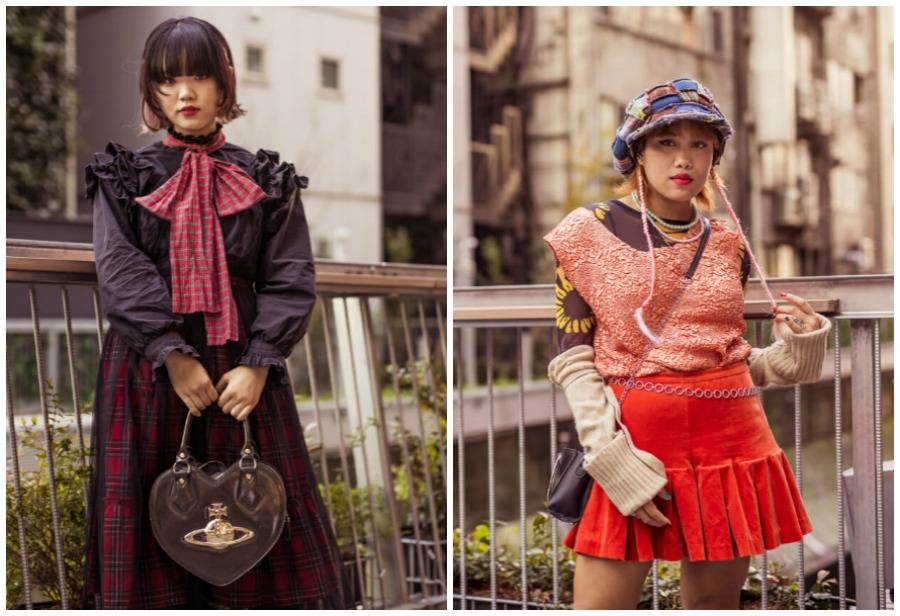 The Vivienne Westwood bag is the perfect accessory for this layered look straight out of a Dickens novel! Tulle over plaid, taffeta bow over cotton ruffles. Flash forward one hundred years and the same girl is embracing neon and modern fabrics. She is wearing knits over mesh under boucle, knit arm-warmers and velvet drop-waist skirt. The patchwork cap is a Lenny Kravitz staple and adds just enough street chic.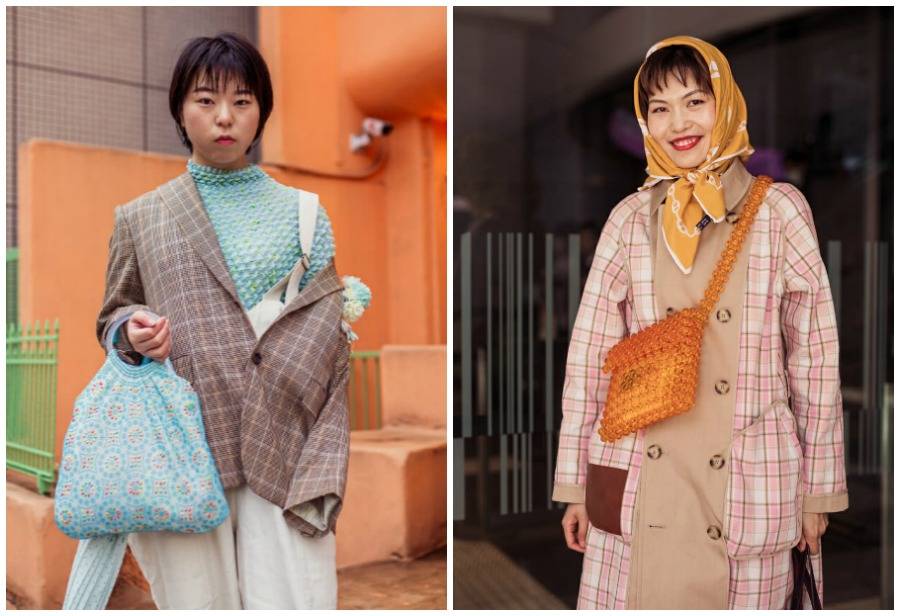 Pairing traditional plaid with unique textured fabrics and accessories creates a moment where your mind oscillates between modern or retro. This mash-up of men's suiting, a pink Burberry-like trench, and a Grace Kelly Hèrmes head-scarf is strangely satisfying and would be perfect for a mother/daughter weekend moment.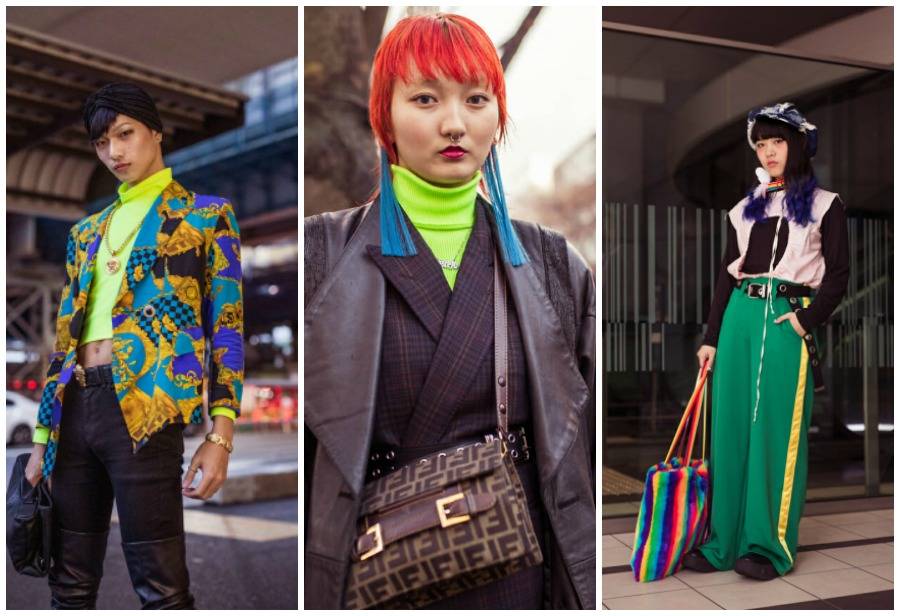 From the turban to the turtleneck to the wide-leg trousers, these three are hitting all the best vintage notes from the 1980s. Pops of neon, whether in the clothing or the hair, draws the admiring eye from photographers. All three have made stellar handbag choices – the PVC clutch, the Fendi logo-laden cross-body, and the over-sized rainbow faux fur tote – that compliment and not overwhelm.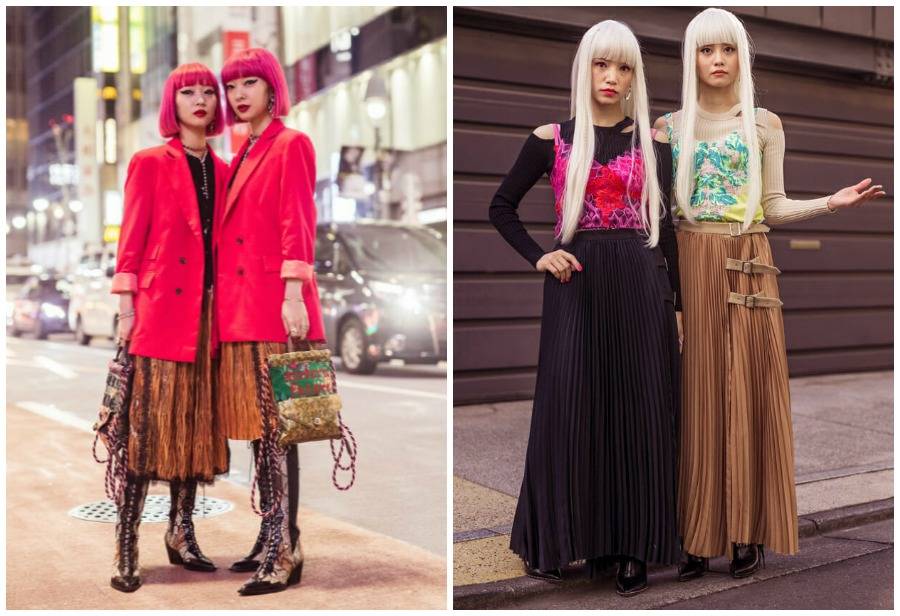 Finding that special someone who 'just gets you' is priceless. These 'twins' were captured carrying on last year's twinning phenomenon with aplomb and grace.
Every year, as we devour the latest collections, and swoon over the Gucci, Dior, and Chanel, it is fashion season's wrap-up in Tokyo that reminds us of the astute words of the late Gianni Versace:
"Don't be into trends. Don't make fashion own you, but you decide what you are, what you want to express by the way you dress and the way to live."
Feel comfortable in your choices. Be expressive. Be as loud, bright, and intense as your heart desires!
(This blog post was originally written expressively for Turnabout Luxury Resale and published on May 1, 2019).
Author Profile
Helen Siwak is the founder of EcoLuxLuv Marketing & Communications Inc and publisher of Folio.YVR Luxury Lifestyle Magazine and digital women's lifestyle magazine EcoLuxLifestyle.co. She is a prolific content creator, consultant, and marketing and media strategist within the ecoluxury lifestyle niche. Post-pandemic, she has worked with many small to mid-sized plant-based/vegan brands to build their digital foundations and strategize content creation and business development. Helen is the west coast correspondent to Canada's top-read industry magazine Retail-Insider, holds a vast freelance portfolio, and consults with many of the world's luxury heritage brands. Always seeking new opportunities and challenges, you can email her at helen@ecoluxluv.com.